While writing my children's book,
Ms Avocado Solves a Mystery,
I thought a lot about my favorite mysteries. I've been an avid mystery reader since I was a preteen. As you may notice in my selections, I prefer mysteries that have female protagonists and cozy-settings. Please enjoy my recommendations and perhaps you will find a book you love too:
3. A Caribbean Mystery by Agatha Christie
As a
mystery fan, it's hard to not love Agatha Christie. She's a master. When it comes to Christie novels, I prefer Miss Marple stories because Marple is subtle about her contributions to crime solving.
A Caribbean Mystery
is a favorite of mine because it takes Marple out England and drops her in the land of the wealthy and privileged at a Caribbean resort. The fish-out-of-water element works to the book's advantage, and it is a pure delight.
2. Joyland by Stephen King
Though published by Hard Case Crime, this novel is not a hard-boiled mystery. Instead, King mixes his who-done-it with the coming-of-age story, romance, and ghost tale. The results are a surprisingly sweet and wistful book that shares DNA with cozy mysteries and King's own masterpiece,
The Body
(which served as the source material for the film
Stand by Me
). Reading this book propelled me into other King mysteries, including
The
Colorado Kid
and his latest,
Finders Keepers
.
1. The Cat Who Had 14 Tales by Lillian Jackson Braun
Of all of the mystery books I've read, I return to
The Cat Who Had 14 Tales
most. Lillian Jackson Braun's
Cat Who...
series was my first mystery obsession. I especially love this book because it features short stories Braun published in magazines early in her career. Each is a charming miniature, showing the author's knack for comfy settings and creating believable feline protagonists.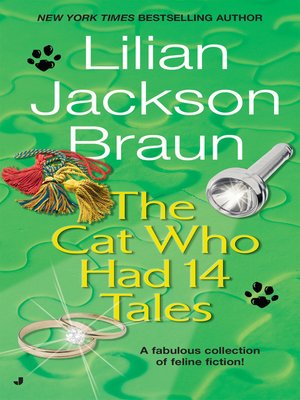 Honorable Mentions:
Deck the Halls
by Mary Higgins Clark and Carol Higgins Clark,
Death by Darjeeling
by Laura Childs,
At Bertram's Hotel
by Agatha Christie, and the
Murder She Wrote
mysteries by Donald Bain